Yikes! It's 2019??? Who would have thought we'd make it to our 11th year! 2018 sure was turbulent! These days we're meeting in the Hawthorn Hotel, a cosy little place very close to Glenferrie and Auburn train stations. 🚂 Maybe one day we'll be back in the city, but I'll need to do a lot of work to make that happen.
In the meantime, we're having a great time, playing lots of fun games 🙂
According to the poll after the January Cafe Games, the top 3 games played were Bananagrams, Decrypto and Codenames Pictures! Definitely quite popular games, but I also noticed that lots of people claimed to have played some games by themselves, like The Resistance, Were-words and The Climbers … so … I guess not everyone responds… 😛
Codenames Pictures! Okay maybe not as popular as the words edition, but still intriguing in its own right …
Cats (formerly "Crazy Cat Lady")  … I haven't yet had the chance to play this innovative prototype myself but in previous versions you played a bunch of crazy cats bringing food home for your owner, and occasionally fighting if you get to close to each other (magnets!)
Articulate, could you call it Speed Taboo? In 30 seconds get your team mate to correctly guess as many card answers as possible. Luckily they know the general topic!
The Climbers – been around for a while, but seems to have made a resurgence recently! Climb. To the top. Because it's there. (We have ladders)
Settlers of Catan – quite a venerable "grandfather" of a game these days – dates back to the 90s!!
🏆 1995 Game of the Year (Spiel des Jahres)
Qwirkle. Beer. Chips. All of the sneakiness and positioning of Scrabble without the spelling. I guess that makes it the opposite of Bananagrams!
🏆 2011 Game of the Year (Spiel des Jahres)
Resistance: Avalon – no longer has as much hype but still has a fond place in the black heart of many an inveterate liar. Who can you trust?
Duck Duck Go! Four rubber duckies bouncing back and forth in an erratic race around a bathtub!
7 Wonders … on such a tiny table!! One of the most famous "drafting" games … you're holding a hand full of wonderful cards – you can only choose one and your neighbour will get the rest! Build a mighty empire!
🏆 2011 Expert-Level Game of the Year (Kennerspiel des Jahres)
Monster Slaughter – Humans are so annoying, and now they've taken over your favourite cabin in the woods … time to get your monster mates together to do something about that!
Decrypto – a spy master attempts to give clues to his team – sounds a little like Codenames right? Except the other team is listening, and if they crack your code, they'll win … so your clues need to get progressively stranger … but you better not make them so hard that your own team won't get them!
Kingdomino – build your own tiny fantasy kingdom out of dominoes where your castle is surrounded by wheat fields, forests, pastures, swamps and lakes! An amazingly quick but clever game
🏆 2017 Game of the Year (Spiel des Jahres)
Between the Light and the Dark … four psychics try to dream dreams that will lead them to the secrets of the past, and a killer! Mysterium. But the dreams the Ghost sends are confusing and surreal – will they be able to work out what they mean?
True Crime Legends – a brand new game, straight from England. Be the head of a crime syndicate, recruiting an evil range of real life mobsters and thugs to run your dodgy businesses, risk smuggling a shipment of narcotics or attack the other mobsters.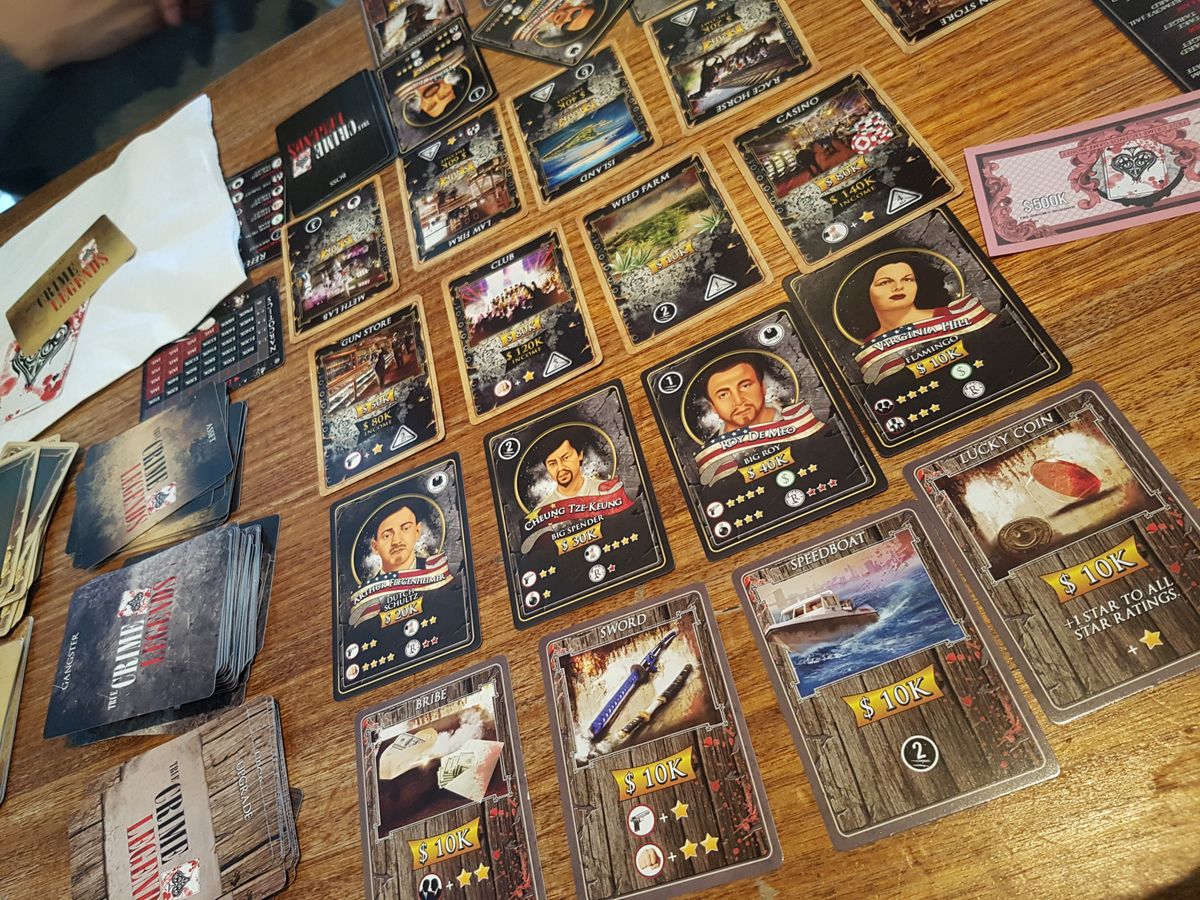 Villainous – each in their own separate little worlds, Disney villains compete to see who can get to their objectives first – Queen of Hearts vs Malificent vs Jafar vs Captain Hook? The other players will try to slow you down by introducing the good guys into your story…. Alice? White Rabbit? Peter Pan?
Ophiuchus: The Thirteenth Constellation – place stars tiles into constellations!
Such a clever modern classic – Evolution – where you build a web of life around a watering hole. In this fidgeting ecosystem of animals, you might assume it's best to be a carnivore, but they need to be constantly finding new prey to chase … whereas herbivores just eat what grows up out of the ground!
Tag your friends!
These are Facebook pictures, so make sure you tag yourself and your friends into the pictures, to share the fun 🙂
See you soon!!
Looking forward to catching up with you all this Saturday 9th February at the Hawthorn Hotel!
˜ Christopher