Often people come along to their first Cafe Games and are surprised how many new games there are, board games they've never heard of before, so many new ideas. But looking through the photos from July, I realised that we do play quite a number of games that have actually been around for a while – they must be popular!

Mahjong appeared in China around 1850 and was originally a card game before moving to the tiles normally used today. There were a variety of similar card games around that time, games where you exchange cards for new ones, trying to get sets and combinations and were the ancestors for a range of "Western" card games including Gin, Rummy, Canasta and of course Rummikub (1930) which is also popular at Cafe Games.


Werewolf, the famous psychological game where a few secret players try to kill off the other players without being identified, was invented in 1986,  so now 30 years old!
Appropriately it was invented by a psychology student, although was originally about the Mafia – but it seems many people prefer the supernatural themes. Many games have descended from Werewolf, often with people trying to "fix" aspects of the original game, particularly letting you play the game with a small number of people, without people getting eliminated from the game, and without needing to have a "moderator" running the game.
Many descendants can be found at Cafe Games, including The Resistance (2009), Are You The Traitor? (2009),  One Night Werewolf (2012) …


…Another Werewolf descendant is Saboteur from 2004 in which you're not only trying to work out the secret baddies in your midst, but you're trying to build a tunnel at the same time.


The car-racing game Formula Dé came out 25 years ago, in 1991, and has players constantly changing gears to try to get the right speeds to get around the twisty track. The game was popular enough to get a "new and improved" version in 2008 called Formula D (pictured above)


For many people, Bohnanza is a rock-solid "foundation" game – a "must have" which has been around forever – well 19 years – since 1997, with its players haggling over exchanging cards with silly cartoons of "beans" (bohn) on them.


It's rare to have a Cafe Games day where there aren't at least two copies of Bohnanza brought along. There have been many other "Bohnanza" games made since, but none of them seem remotely as popular as Bohnanza.


Citadels with its iconic long box has been around now for 16 years – since 2000. It's a sneaky little game where you can't choose which player you're going to attack, you can only name a specific card you think they have – so you might find you're attacking the wrong person! This year it's being reworked into a new version – still called Citadels though.


The delightfully lightweight Tsuro apparently came out in 2004 – 12 years! The rules are so easy and yet you get the feeling of some intrigue, some chasing each other around the board. A "boat" version with a few twists came out in 2012 – Tsuro of the Seas . Apparently there's even a "Star Wars" branded version, but I've never come across that.


Power Grid also came out in 2004 – a good year evidently! The original set had you building your electrical network across North America, but in the intervening years extra boards have come out to let you build in many other areas of the world. Regretfully the depicted drink coaster doesn't come in those sets. 😛 However, in 2014, there was a deluxe edition produced, with a few minor changes.


"Like Scrabble without having to spell" – Qwirkle came out in 2006 and intriguingly won the prestigious "Spiel des Jahres" game of the year award in Germany – but in 2011! I guess the Germans had a bit of a delay!
Unfortunately Qwirkle doesn't seem quite as popular at Cafe Games anymore – it must have peaked 3+ years ago, but in recent times there does seem to be a little bit of a resurgence, especially with people getting the cute "travel" pack with the mini tiles shown above. I know there have been a few games based on Qwirkle, but I think only once did Qwirkle Cubes appear here.


Wow, since coming out in 2008, Pandemic has really gone from strength to strength and thrown a strong focus on cooperative games. It's still quite common to see multiple games of this being played at the same time. Several big expansions and upgrades have been produced, and the game has been reworked into a dice version Pandemic: The Cure, and even rethemed into the fantasy world Defenders of the Realm. Creator Matt Leacock also used many of the ideas from Pandemic in his subsequent cooperative games Forbidden Island (2010) and Forbidden Desert (2013) which are also popular at Cafe Games.
Yes, how could I not mention that Pandemic now has a Legacy version, in which there's a continuing story between the first 12-24 times you play the game, with permanent changes made to the game board. Hopefully you did already hear about it, since this is the game that has jumped to #1 on the BoardGameGeek website ranking of all known board games!!


Cards Against Humanity . For a few years after it came out in 2009 , you couldn't buy it in Australia – you either had to buy it overseas or legally print it out from their website. I guess that gave it a bit of an exclusivity factor that helped the "naughtiness".
Initially after it became available in Australia it became mega-popular – we had tables playing it everywhere, with some people playing it for 4+ hours straight and large groups of 12+ playing. Its popularity has since waned dramatically though. Seems like most people must have OD-ed on it, and now only play it in small amounts, if at all.
In Recent Years …
I wonder which of these recent and currently popular games will survive 10 or 20 years more?


Seasons (2012) … certainly very pretty with all those pretty dice.


Viticulture (2013) is apparently gaining quite some popularity, with an expansion Tuscany, and slightly reworked in a new fancier version in 2015 – The Essential Edition.


Concept (2013) Personally I'm surprised that this seems so popular as it's like one person suggested "charades without the acting" 😛 … But folks seem to like it and I'm sure I've seen that you can even buy an extra large board to play it on, should you wish.


Marrying Mr Darcy (2014) Definitely one of my favourites – Victorian-era sibling rivalry to land the man of one's dreams. I suppose not really a game you'd play more than once a day, but it does have a few expansions – one adding Zombies (ugh! As per the rewritten "Pride and Prejudice") and another which changes the game setting to the events in the book Emma … so I hope this one "has legs".


Red 7 (2014) Apparently had quite a bit of hype at BGG Convention when it first came out. By the creator of loved games such as Glory to Rome and Innovation. Described as "Uno for real gamers" … it's a clever little game … but it's still just a "filler" style game that might be too "thinky" for some people to enjoy.


Sheriff of Nottingham (2014) I think the hype has died off a little on this one too. I think initially lots of people saw it featured on several YouTube shows: Tabletop show, The Dice Tower and Sit Down & Shut Up and got quite excited about this "customs inspection" game…


… Sheriff seems to go in waves … it will disappear for a while then come back briefly.
I'm not sure how many people have found the official timer app for the game. It made the game so much tighter and added tension.


Can it really be true that Codenames only came out in 2015? We still get multiple tables playing this at the same time, and you don't really need to have precisely the same numbers of players on each side (what's 1 more in the fun!). It's great that a team game has this level of popularity. I've mentioned before that a Pictures version is coming out soon, and I've just heard that there's an "Adults" version coming out too.


Caffeine Rush … well … it only came out in 2015, so maybe it's day hasn't arrived yet … but I'm not sure this game of speedily filling coffee orders really hits the mark.


Blood Rage (2015) I hear that this is Viking game is really one to keep an eye on. It's already within the top 20 games on BGG and is the 5th top "Thematic" game. Sounds exciting!
See You This Weekend!
Remember to come along to Cafe Games this Saturday to try out these exciting games and many more!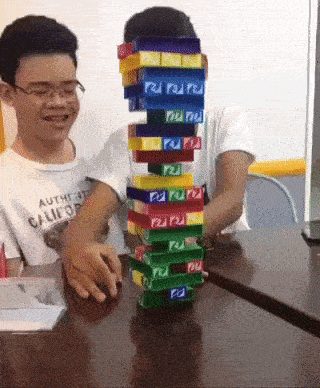 … You can't come because you're in Indonesia?

If you're in Surabaya, Indonesia, like I was the other day, why not drop in to their first boardgames cafe "The Guild" ? They're very welcoming and enjoy games of all types.


See you soon! ~ Christopher